Razor E300 Electric Scooter Review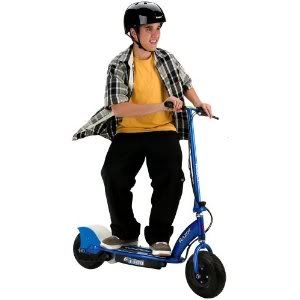 The Razor E300 Electric Scooter is the top scooter in the Razor electric scooter lineup. Filling out a group of electric scooters that range from small children sized electric scooters, to this full sized model, Razor has provided electric scooter fun for all sizes and ages of kids.
Sometimes dad may want to ride his kid's scooter, but finds out that the scooter was built for someone shorter (and lighter). Unless dad is an extremely large dad, that won't be a problem with the Razor E300 Electric Scooter.
It's ok to let your dad ride your scooter if you have a Razor E300. Or, if you prefer, you can tell him to go get one of his own. Then you can go joy riding together. At a manufacturer's suggested retail price of $259.99, you'll be able to afford an extra one. In fact, check the prices at Amazon. They typically offer these scooters for even less.
Read the rest of the "Razor E300 Electric Scooter" review:

Table of Contents (click ahead!)
Who is the Razor E300 Electric Scooter Designed For?
Razor E300 Performance and Operation
Battery Life of the Razor E300 Electric Scooter
Razor E300 Assembly, Maintenance, and Storage
Customer Reviews of the Razor E300 Electric Scooter
Pros & Cons
Who is the Razor E300 Electric Scooter Designed For?
Razor has rated the E300 Electric Scooter for children of at least 13 years of age and up to a weight of 220 pounds.
The deck is a "super-size" so that teens and adults with larger shoe sizes will have ample room for their feet. The E300 also has taller handlebars than either the E100 or E200 with dimensions of 41″ x 17″ x 42″. The scooter weighs a full 52 pounds.
Many customers have purchased the Razor E300 Electric Scooter for their children who are as young as 8 or 9 years old. They have reported excellent results and the children love it. I would not be uncomfortable, at all, having this scooter for a child that young, as long as they are tall enough to maneuver the scooter safely.
Razor E300 Performance and Operation
A super quite chain driven electric motor powers the Razor E300 up to speeds around 15 miles per hour providing fun and excitement without annoying the neighbors. Acceleration is controlled by a twist grip throttle so your child can keep both hands on the handlebars at all times.
A nice feature on the Razor scooters is a power cut-off switch that is activated when the brake is applied. The kids don't care for this feature, but it is necessary to save the motor from overheating if the brake were held simultaneously with the accelerator being on which would cause the motor to be overworked.
The E300 rolls on taller and wider 10″ pneumatic tires on the front and rear which gives a softer and smoother ride over rougher roads than scooters with smaller wheels. It isn't designed to ride off road, but not every paved road is as smooth as brushed concrete, so it's nice to have a little cushion between you and the road.
Battery Life of the Razor E300 Electric Scooter
The 24 volt (2-12V) batteries are expected to run for up to 40 minutes at a time and to accept an average of 250 charges giving ample use before any battery failure should reasonably be expected. Proper care of the batteries should be adhered to in order to achieve maximum results.
A UL approved battery charger is included with the scooter when you purchase it. The scooter should be charged for up to 18 hours initially and up to 12 hours thereafter. I should be charged immediately following each use and care should be taken to be sure that it doesn't get overcharged. The batteries should never be exposed to freezing temperatures.
These are normal battery maintenance procedures that one would need to follow for any electric scooter that they purchase.
Razor E300 Assembly, Maintenance, and Storage
All the tools that are necessary for the assembly of the Razor E300 Electric Scooter are provided in the package when you purchase it. The assembly is very simple and anyone should be able to complete the steps within just a few minutes. All that is required is to put the handlebars on and it's ready.
As mentioned earlier, the battery will need a charge prior to the first use of the scooter. If you are giving the scooter as a gift, you may want to charge the battery before giving the gift so that the recipient will be able to use it immediately after receiving it.
Some people have had problems with the tires slowly losing air. Check the air pressure in the tires regularly and fill to the proper pressure if they become low on pressure. The valve extender that is necessary to fill the rear tire is located inside the right handlebar grip.
It's a good idea to check the chain tension before using the scooter. It should have about a half inch of free play. If it is too tight, the motor has to work extra hard to move the scooter. This will cause a reduction in power, slower speeds, and can even burn up the motor with minimal usage. There are many disappointed customers as a result of not heeding this advice. They tend to blame the manufacturer for selling defective products when it is actually a maintenance issue that could have been avoided.
Finally, make sure that the power switch is turned off when the scooter is not in use so that the battery doesn't run down on its own. Then, fold the handle bars down and store it away conveniently.
Customer Reviews of the Razor E300 Electric Scooter
"The scooter was exactly what our boy was looking for and he's already gotten good use of it. It works remarkably well and…(read more here: Razor E300 Electric Scooter Review)"
"I absolutely love this scooter. It really rides fast. It is super sturdy. It isn't one of those little flimsy scooters…(read more here: Razor E300 Electric Scooter Review)"
Amazon Rating: 4.1
Pros & Cons

Pros:
Sturdily built frame will handle normal use and wear of the scooter.
The 300 watts of power are sufficient for kids to reach high enough speeds to have plenty of fun.
Battery maintains enough charge to provide power for sufficiently long rides.
Cons:
Ships in a box with pictures and labels on the outside, so take care if you have purchased it as a gift that needs to remain a surprise for the recipient.
Razor frequently sets the chain too tight during the assembly process, so be certain to check the chain tension before riding it the first time.
The scooter is a little sluggish up hills with heavier riders.
Check current pricing discounts:

Recommended Resources